And not in a bad way, just
endless
... which is a little strange. It's not like we've had warm, drowsy weather the whole time. Couple days ago it was hailing when it wasn't monsooning.
I want to learn to redo the hair and makeup for one of my Blythe dolls. I need 300-grit sandpaper, some Mr. Super Clear Matte spray to seal the makeup in, chalk pastels for the makeup, either alpaca or mohair (unless I can find a reasonably priced wig), and the knowledge of how to reroot a doll scalp (unless I find said wig).
This is her now:
Except her bangs are flat across
This is much more along the lines of how I would like her to look: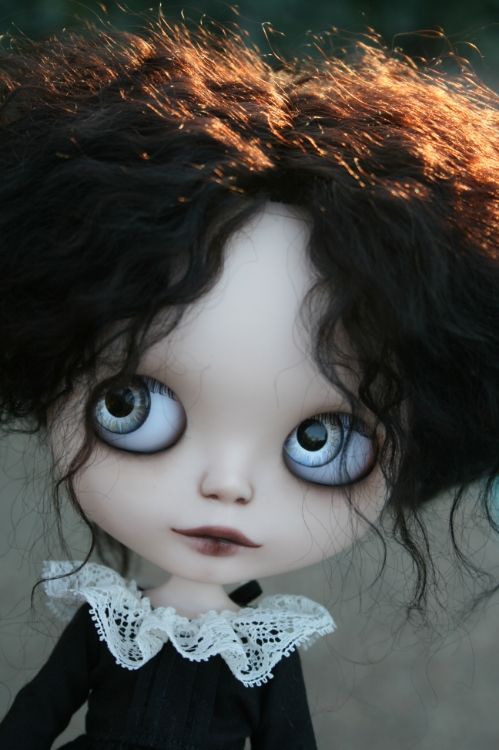 Not exactly the same, since the second doll is another one I own and I don't need twins, but you get the idea. Redone hair, much more realistic makeup, better eyechips and such. Anyway, I don't really know how to do any of this, but I'm reading up on it. Evidently you need to gently sand the old makeup off, which sounds TERRIFYING. I might not do anything.... No, must not be a chicken. ....I'll think about it.
I painted a bit last night. I'm giving my huge canvas in the loft new life. I'd grown dissatisfied with the old artwork on it and decided to repaint it in medium gray, then arrange art cards from Paulina Cassidy all over it. It will be smashing. I only did the painting last night, none of the card decorations. I'd like to get some plexiglass to put over the front of the canvas, and my friend Brynn had some great ideas about getting trunk corner thingies from JoAnn Fabrics to hold the two pieces together, so we will see what happens. It was pretty cathartic even just painting over the old stuff. Yay!
Here is the canvas from when I was trying to figure out how to evenly distribute 78 cards. Why is it not a better, more easily broken up number? Ugh.
The black and white filter is just for fun. The cards are all in color.
I have not forgotten about that other multimedia project. The Electroninks circuit pen should ship in June. I'm going to come up with a basic design layout for how I want the piece to be finalized, and then start slowly gathering materials.
In craft-related news, my friend Kacey is vending today at her local
Spring Equinox Bazaar
! It's her first show, and I have faith that others will love her jewelry just as much as I do. Good luck, Lady Hayes! <3