As I'm sure you all know, I love
American McGee's Alice: Madness Returns
. That game is awesome for many reasons. One of them is Alice's ability to go into
Hysteria mode
when her health is very low. She takes no damage and deals a greatly increased amount. Basically it's Alice Hulking out.
This is what going into Hysteria mode looks like:
That video is a bit long, but it contains very good examples of how Hysteria works. You can see the gigantic amounts of damage Alice is inflicting while within that mode. The huge thing she's beating the crap out of is called a
Colossal Ruin
, and without Hysteria it takes FOREVER to kill. She does it in three smashes. Normally you can't use Hysteria that many times in a row, but in this case Alice is wearing a downloadable (extra) content dress called the
Fleshmaiden
, which basically looks like meat and allows Hysteria to be used at any time.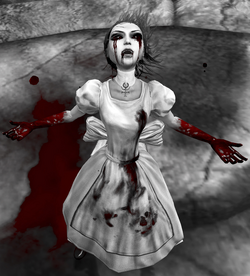 According to the Hysteria page on wiki (linked to above):
Hysteria is an ability that grants Alice Liddell temporary invincibility for a short period of time. To activate Hysteria, Alice must be near "the edge of sanity," which is on her last Rose. However, if Alice is in the Fleshmaiden dress, she can enter Hysteria at any time, disregarding the amount of health she currently holds. When Alice enters Hysteria, she screams, sending a deadly sound-wave as blood splashes around her. All of Wonderland is now seen through a gray slate, and Alice herself gains new-found superhuman strength and temporary invincibility. This phase also removes the heat-up effect on the Pepper Grinder and Teapot Cannon. Her weapons become twice as strong and become bloody and wrapped in bandages; the Hobby Horse seems alive with vengeance and the Vorpal Blade is soaked in fresh blood from some new killings.
I want me some Hysteria mode. In addition:
Hysteria makeup tutorial
! Cooooool...
Anyway, this leads me into the first treasure, which is my Hysteria Alice figurine. She is by my bed to murder any nightmares that plague me:
The second is something I (FINALLY) found on eBay: a vintage bookmark showing the cast of Buffy the Vampire Slayer in a promo shot for library usage. No
Spike
, but one can't have everything... The project is (somewhat unimaginatively) called
READ
, and they have a lot of celebrities help out in an attempt to get more widespread interest in young adults using libraries (and reading in general). Heaven knows we need more of that. $2.50 for said bookmark? Yes, please.
A colleague of mine at work has an actual poster, and I have looked everywhere for one of my own, to no avail. Instead, I found a bookmark! It obviously is much smaller than the poster, but I'll take what I can get. This is what the poster looks like:
Kinda silly, but hey, whatever works. The bookmark is basically exactly this, although it has the text on the left side of the poster across the bottom instead. Slay ignorance, y'all! Read!
Oh yeah, and happy Friday.